Assessing Wildfire Risk & Particle Pollution via Air Quality Index Monitors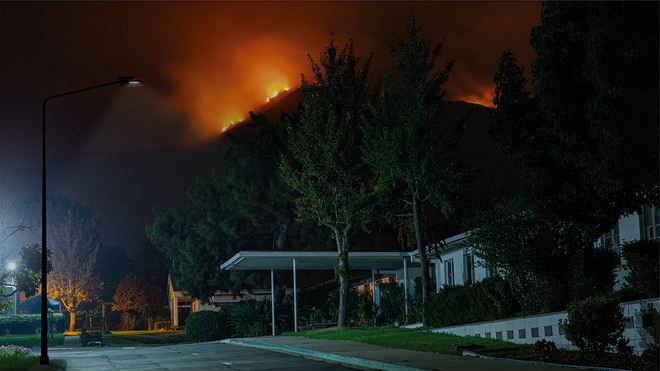 Air quality advisories return to the US this week as record-breaking wildfires rage on in Canada.
Fires of this caliber can impact air quality hundreds of miles away. Even brief exposure to particle pollution can lead to higher rates of hospital admission. Effects are especially pronounced among high-risk groups, such as those with heart or lung conditions, pregnant people, children, and the elderly.
For cities, the air quality index, or AQI, is a critical indicator of risk to the community. It provides valuable information about the level of pollutants present in the air, such as particulate matter, carbon monoxide, nitrogen dioxide, and ozone. By regularly monitoring the AQI, cities can keep communities informed about the safety of the air they breathe.
Severe Wildfires are on the Rise
On average 70,000 wildfires occur each year in the United States – and they are increasing in severity. Between 1980 and 2021, the US had 20 wildfire events that caused $1 billion in damage or more. 15 of those events were after the year 2000.
Wildfires are a natural stage in the lifecycle of forests, grasslands, and other ecosystems. But when left uncontrolled, they can harm urban infrastructure, public property, and human health. With the stakes higher, tracking AQI has become crucial for public safety.
City of Schenectady Finds "A Far More Practical Use" for Air Quality Monitoring
More communities are tracking air quality and using the information to provide health guidance to citizens. The City of Schenectady is one of them. A few years ago, they upgraded their streetlights and added a UbiCell Smart Street Lighting system. At the same time, they purchased compatible UbiSmart Air Quality Monitors. When they purchased the environmental sensors, Mayor Gary McCarthy knew they would provide "interesting information" to the city. But with the fires, he told citizens that "we've seen a far more practical ability to monitor what's happening within the City of Schenectady."
By practical he means the ability to monitor air quality and advise residents with pre-existing conditions to minimize their exposure and follow the Center for Disease Control Guidelines for wildfire smoke. This includes staying indoors with the windows closed as much as possible until the air quality returns to normal levels. If at-risk residents needed to be outside, the city advised the use of proper N95 masks.
A Simple Way to Deploy Air Quality Monitors
Ubicquia makes it easy for cities to add air quality monitors when they upgrade their streetlights. It is a simple addition to the streetlight and can be monitored using the same UbiVu asset management system used for streetlight operations. Combining lighting control and air quality monitors allows cities to provide additional services to their citizens at a third the cost of standalone solutions.
Ubicquia is seeing greater interest in air quality monitoring. Stephen Patak, Ubicquia's Chief Revenue Officer said, "A year ago, many cities purchased air quality monitors as an afterthought but that's changing. With the increase in wildfires and climate action plans, cities are viewing air quality monitoring as a critical service."
Air Monitoring Solution
UbiSmart AQM+ is a smart device that checks the quality of the air. It measures temperature, pressure, humidity, ozone levels, noise levels, and particulate matter. It follows EPA standards.
Cities can utilize real-time data for multiple purposes. One of these purposes is predicting fire risk. Another purpose is tracking active fires. Additionally, cities can use real-time data to warn people about dangerous air quality during wildfires.
UbiCell is an intelligent lighting control module that replaces the existing photocell in any outdoor streetlight, barn light, or security light.
It monitors and sends live alerts on fire risks like line circuit voltage (sags/swells) and outages caused by the operation of circuit reclosers, and pole damage.
UbiVu is a cloud-based intelligent asset management system that manages all Ubicquia solutions. It provides real-time data and analytics to identify and address energy waste, equipment outages, hazardous air quality, and streetlight outages.
To learn more about how Ubicquia is helping cities stay in control this wildfire season, see our UbiSmart AQM+ webpage.