Ubicquia's UbiCell Network Lighting Controller Achieves Interoperability with Anterix CatalyX Solution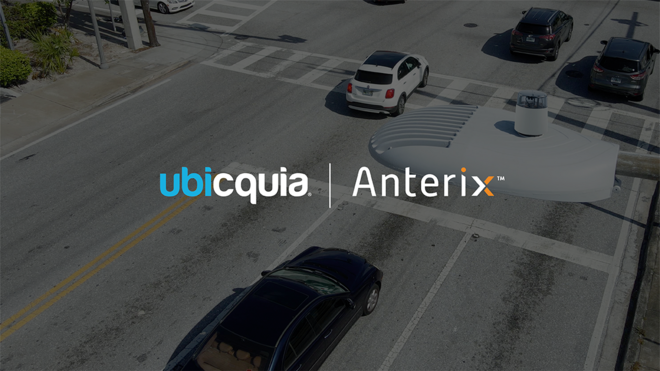 Utilities can realize the benefits of intelligent infrastructure with private wireless broadband and public cellular networks
FORT LAUDERDALE, FL – August 8, 2023—Ubicquia, Inc., a company dedicated to making intelligent infrastructure simple and cost effective to deploy, today announced its UbiCell® network lighting controller (NLC) is interoperable with Anterix CatalyX®. Ubicquia's UbiCell NLC is now able to connect on utility private LTE networks deployed using Anterix's 900 MHz spectrum. The UbiCell NLC's more than 200 utility customers can realize the benefits of private broadband while also leveraging public cellular networks.
To achieve interoperability, Ubicquia integrated the CatalyX state-of-the-art SIM technology and device SIM management within the UbiCell NLC. The product was then tested and validated for performance, security, scalability, and roaming over private to public networks.
"We are thrilled to complete our interoperability testing with CatalyX, and join over 100 Anterix Active Ecosystem members focused on the needs of the utility industry," said Jow Ortiz, general manager of Ubicquia's utility business. "This will provide our customers greater network choice along with the assurance that the UbiCell network lighting controller provides to deliver utility grade functionality, flexibility, and energy efficiency."
"Ubicquia shares our commitment to helping utilities deliver clean and affordable energy safely. We are pleased to have Ubicquia as a member of the Anterix Active Ecosystem, helping us to deliver high value solutions to our customers," said Stephen Ryan, Vice President of Ecosystem and Partnerships at Anterix.
Ubicquia remains committed to advancing the field of smart lighting controls by incorporating cutting-edge technologies and partnering with industry leaders. Interoperability with CatalyX further strengthens Ubicquia's position as a trusted provider of reliable and interoperable lighting solutions.
About Ubicquia, Inc.
Ubicquia's intelligent infrastructure platforms install in minutes and make the world smarter, safer, and more connected. Our smart city solutions simply plug into the photocell socket of 360 million compatible streetlights to reduce energy consumption, enhance public safety, and lower operations and maintenance costs. Our communications platforms use existing streetlights to expand public broadband and help mobile operators accelerate 5G and FWA deployments. Our smart grid products attach to existing distribution transformers in minutes and provide predictive analytics that make the grid more resilient. Ubicquia products are deployed by more than 700 customers, including some of the largest cities, utilities, and mobile operators across North America. To learn more visit www.ubicquia.com