Ubicquia Wins IDSA International Design Excellence Award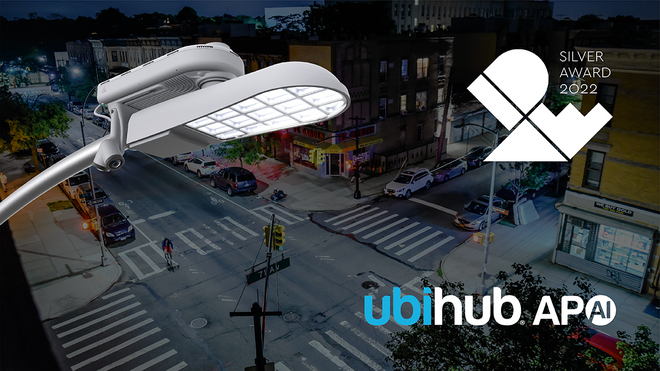 The award recognizes the innovative, impactful and aesthetic design of the UbiHub AP/AI, which makes communities smarter, safer, and more connected
FT LAUDERDALE, FL — September 28, 2022 — The Industrial Designers Society of America (IDSA) last week announced that Ubicquia's UbiHub AP/AI was selected as a Silver winner for Commercial and Industrial Design, as well as the recipient of the prestigious IDEA 2022 Curator's Choice Award, a top honor selected by the organization's lead curator Marc Greuther. The UbiHub AP/AI was chosen out of the IDEA's largest pool of applicants on record, one of 167 winners out of a total pool of more than 2,200 applicants across 30 countries.
"We are incredibly grateful to be recognized for such a prestigious award," said Claudio Ribeiro, Head of Design at Ubicquia. "Every part of the UbiHub's design helps achieve the product's vision of revolutionizing the smart city technology space while maintaining a clear, purposeful, aesthetic that blends into the city's environment."
The IDEA awards recognize innovative product designs that make an impact on people's everyday lives, honoring nothing less than the pinnacle of design excellence. A panel of more than 45 top designers, thought-leaders and visionaries who have expertise in industrial design, evaluated that the UbiHub AP/AI met the society's rigorous standards of design innovation, benefit to user, benefit to client/brand, benefit to society, and appropriate aesthetics.
UbiHub AP/AI is a street light-mounted access point with edge AI processing applications that expands high-speed wireless internet access and lighting control capabilities, helping make communities of all sizes safer, smarter, and more connected. UbiHub AP/AI has numerous use cases, including enabling municipalities to expand wireless access, enhance curb management, optimize traffic flows, and improve public safety. Installed by plugging directly into streetlights in minutes, UbiHub AP/AI is compatible with more than 360 million streetlights worldwide. UbiHub AP/AI is more than just an individual product, it is a platform integrating edge AI, Wi-Fi, microphones, cameras, and lighting control all in one unified system.
About Ubicquia
Ubicquia offers municipalities, utilities, and communication service providers cost-effective and scalable platforms for deploying smart city, connectivity, and grid solutions. The Ubicquia® suite of streetlight-mounted smart city and connectivity platforms include UbiCell®, which enables smart streetlight control; UbiMetro™, a streetlight small cell that accelerates 4G and 5G network deployments; and UbiHub®, which delivers high speed wireless internet access and street level video and audio intelligence. Ubicquia's smart grid platforms include UbiGrid™ DTM+, a platform to monitor a utility's distribution transformers and network in real-time; and UbiSmart™ AQM+, a sensor that monitors a city's air quality index, noise levels and environmental data. Ubicquia's solutions install in minutes to help communities become smarter, safer, and more connected. To learn more visit www.ubicquia.com or follow us on Twitter and LinkedIn.