Ubicquia Appointment of Antoinette Bush and Heather Ritchie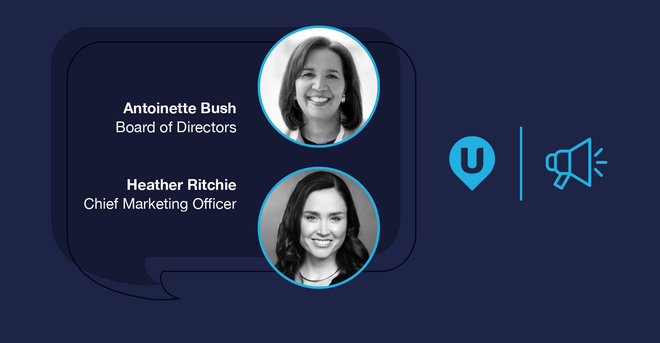 FORT LAUDERDALE, Fla. (May 9, 2022) -- Ubicquia today announced Antoinette Bush, EVP and Global Head of Government Affairs at News Corp joined its board of directors. In addition, Heather Ritchie, former CMO of Nokia's Cloud and Network Services business joined as the company's first CMO.
Antoinette (Toni) Bush
Antoinette (Toni) Bush has played an influential role in US communications and media law for over 35 years. She has shaped regulation around critical wireless, satellite, cable and media industries.
"Toni is a thoughtful and passionate leader. She has a deep grasp of the issues that impact how we govern communications and media and a vision for how we move forward. We are honored to have someone of her caliber on our board and will benefit from her expertise and experience," said Lowell Kraff, Chairman Ubicquia.
Ms. Bush currently serves as the Executive Vice President and Global Head of Government Affairs for News Corp, where she is responsible for leading the company's government relations efforts in the United States, the United Kingdom and Australia. Prior, Bush led the communications group at Skadden, Arps, Slate, Meagher & Flom LLP; legal and regulatory strategies at Northpoint Technology Ltd.; and served as the senior counsel to the Communications Subcommittee of the U.S. Senate Commerce, Science and Transportation Committee, which oversees the Federal Communications Commission. Bush chairs the board of directors of The HistoryMakers and serves on a number of boards including My Brother's Keeper, Advisory Board of the Obama Foundation, and the News Media Alliance.
"I share Ubicquia's commitment to making communities smarter, safer and more connected," said Antoinette Bush. "I am looking forward to working with its leadership team and cities around the country to improve public safety, work for climate change and bridge the digital divide."
Heather Ritchie
Heather Ritchie has been marketing in the communications industry for the last 25 years. She worked her way up to run marketing for Nokia's USD 3.5 billion Cloud and Network Services business. Prior, Ritchie ran Nokia's 5G Marketing Campaign Strategy and Portfolio Marketing for Nokia Software. She has also served as Vice President of Marketing Operations and Vice President of Asia Pacific Communications for Alcatel-Lucent. She's lived in the US, Canada, China and Singapore.
"Heather comes to Ubicquia with a proven track record and deep expertise in mobile and cloud sectors," said Ubicquia CEO Ian Aaron. "We are excited to have Heather at the helm leading our marketing efforts across product, digital, demand generation and corporate communications. Heather's international marketing experience will play a significant role as we begin to expand our reach later this year."
"I admire Ubicquia's dedication to building technology that makes a difference in people's lives. I am looking forward to working with Ian, his leadership team and the world-class Ubicquia board to drive the mission forward," said Heather Ritchie.
About Ubicquia
Ubicquia® offers municipalities, utilities, and communication service providers cost-effective and scalable platforms for deploying smart city, connectivity, and grid solutions. The Ubicquia suite of streetlight-mounted smart city and connectivity platforms include UbiCell, which enables smart streetlight control; UbiMetro, a streetlight small cell that accelerates 4G and 5G network deployments; and UbiHub, which delivers high speed wireless internet access and street level video and audio intelligence. Ubicquia's smart grid platforms include UbiGrid DTM+, a platform to monitor a utility's distribution transformers and network in real-time; and UbiSmart AQM+, a sensor that monitors a city's air quality index, noise levels and environmental data. Ubicquia's solutions install in minutes to help communities become smarter, safer, and more connected. To learn more about how Ubicquia can make your city simply connected and simply smart, visit www.ubicquia.com or follow us on Twitter and LinkedIn.