Marwan Fawaz Joins Ubicquia's Board of Directors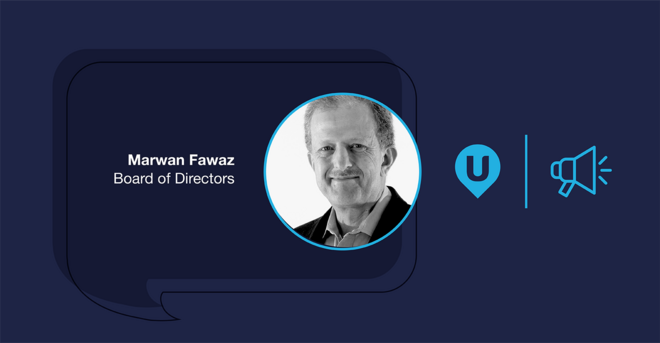 FORT LAUDERDALE, Fla. (February 21, 2023) -- Ubicquia, Inc., a company dedicated to making intelligent infrastructure solutions that are easy to deploy and monitor, today announced the addition of Marwan Fawaz to its board of directors. Fawaz brings decades of experience in communications technology, Internet of Things and 5G along with experience in technology strategy.
Fawaz's experience includes serving as an executive advisor to Google and its parent company, Alphabet. He held CEO roles at Nest and Motorola Home and CTO roles at Charter Communications and Adelphia Communications.
"I have known Marwan for more than 25 years and consider him one of the most strategic and accomplished cable and technology executives in the industry," said Ian Aaron, Chief Executive Officer of Ubicquia. "Marwan's operational experience in the Service Provider, Broadband and Utility sectors will be a tremendous asset to our board and company as we scale our business globally."
"Ubicquia has a huge opportunity to accelerate 5G deployment, broadband connectivity globally, smart grid visibility, and public safety projects. Its use of existing infrastructure is a game changer that will have lasting impact," said Marwan Fawaz. "I am honored to join its board of directors and be a part of a company that is using technology to better the world."
Over the course of his career, Fawaz advised Google on M&A strategy in the areas of telecom, broadband, home automation, media and 5G. Under his leadership, Motorola Home was repositioned and acquired for $2.35 billion by Arris and Nest expanded its product portfolio three fold, and grew international presence exponentially.
Fawaz currently serves on the boards of CSG International and NACD Colorado. He is also a board observer at Neural Propulsion Systems and an advisor to Yohana, a well-being services company and Sway Ventures, a CA based VC.
Fawaz holds a bachelor's degree in electrical engineering and master's degree in telecommunications, with a specialization in satellite communications.
About Ubicquia
Ubicquia offers municipalities, utilities, and communication service providers cost-effective and scalable platforms for deploying smart city, connectivity, and smart grid solutions. The Ubicquia® suite of streetlight-mounted smart city and connectivity platforms include UbiCell®, which enables smart streetlight control; UbiMetro™, a streetlight small cell that accelerates 4G and 5G network deployments; UbiHub®, which delivers high speed wireless internet access and street level video and audio intelligence; and UbiSmart™ AQM+, a sensor that monitors a city's air quality index, noise levels and environmental data. Ubicquia's smart grid platform includes UbiGrid™DTM+, a platform to monitor a utility's distribution transformers and network in real-time. Ubicquia's solutions install in minutes and cost effectively help communities of all sizes become smarter, safer, and more connected. To learn more visit www.ubicquia.com or follow us on Twitter and LinkedIn.