Las Vegas expands smart city project to manage traffic, control crowds, catch crooks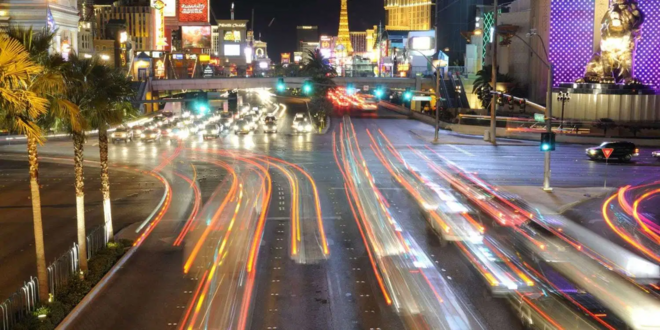 May 15, 2020, Enterprise IoT Insights - James Blackman - Las Vegas has extended its smart-city rollout with Japanese group NTT to cover high-definition optical and audio sensors at 14 locations across the city.
The extension follows an initial trial, which provided information to city personnel to increase situational awareness and provide some minor traffic management data. The pilot has improved traffic congestion and wrong way driving, said Las Vegas.
It is now working with NTT to deploy sensors at two new locations – the city's Community Healing Garden and a portion of Las Vegas Boulevard – and will also Bob Baskin Park, Rotary Park, Stupak Park and Ethel Pearson Park by the summer, before adding six additional parks in the second half of the year.
With the expansion, the city will leverage a dashboard to access and view sensors, data streams, and analytics, and set in motion an automated system to notify law enforcement and maintenance personnel about safety hazards, such as large crowds, gunshots, breaking glass and vandalism.
NTT's Accelerate Smart data platform makes use of various analytics tools, including machine learning technologies, to 'learn' normal patterns and alert authorities of abnormalities. The city said the audio and video monitoring forms part of a Smart Park Initiative to increase public safety and generate usage and operations benchmarks so city leaders can make better decisions.
"Cities that learn, understand and invest in technology will be the cities of the future, and Las Vegas is at the forefront of innovation. Our pilot has been such a success that we are excited to expand the program to several new locations in the heart of our city."
Bill Baver, within NTT's smart cities team, said: "Cities like Las Vegas are capitalising on successful pilots and beginning to imagine the benefits these technologies can have for their residents and visitors. However, smart is not confined to city limits, as it also extends to stadiums, shopping malls and manufacturing facilities by leveraging similar concepts that have been proven successful in Las Vegas."
Las Vegas signed with NTT in late 2018 to advance and accelerate smart technologies, on the back of another proof-of-concept, where the Japanese firm deployed high-definition video cameras and sound sensors to monitor an area within the city's innovation district.
Las Vegas is working with network operator AT&T and IoT provider Ubicquia to trial a new smart street-lighting solution that makes use of existing lighting infrastructure. AT&T has replaced existing photocells with Ubicquia's dedicated streetlight routers in certain downtown areas, connecting them to its mainstream LTE and low-power LTE-M networks.
Las Vegas has also been working with Ubicquia and Celona to connect street lights and venues using CBRS spectrum, separately of traditional operators.
Meanwhile, the city is using artificial intelligence (AI) to detect and fix issues within its IT systems, including those underpinning its various smart city projects. Its deal with California-based FixStream is the first implementation of AI for IT operations in a smart city environment.
Separately, NTT has joined with country-mate Toyota in an alliance to commercialise their smart city solutions. The two companies will invest a total of JPY 200 billion ($1.8 billion) in each other to cement their smart city alliance.