Miller Alliance Group and Ubicquia team to improve traffic management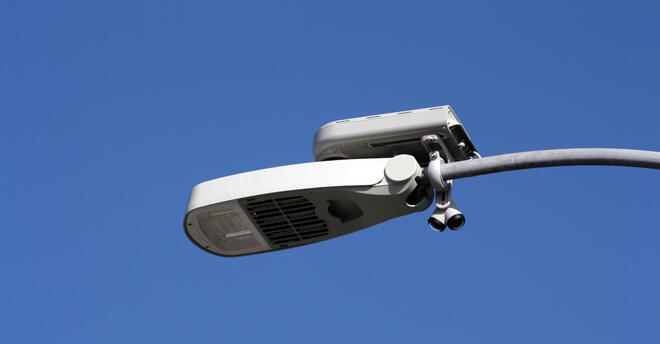 Combined expertise and technology gives agencies a cost effective way to reduce traffic congestion and improve road safety.
FORT LAUDERDALE, FL – September 20, 2022 – Eco Partnering Innovations (EPI) and Miller Alliance Group (MAG), Smart City technology solution providers and experts within ITS, Traffic and Planning and Ubicquia, Inc., a company dedicated to making intelligent infrastructure platforms that are simple to deploy and monitor, announce a strategic partnership. The organizations are collaborating to provide agencies with better insights into traffic safety and the intelligence required to increase traffic efficiency.
Agencies are looking for flexible systems that can help them understand traffic patterns, improve congestion and reduce air pollution from cars. The I-95 corridor – which stretches 1,917 miles from Maine to Florida – sees an average of 72,000 vehicles with maximum daily traffic reaching as high as over 300,000 vehicles. Among the 1,040 miles traversing through urban areas, over 60 percent is currently under heavy congestion. The UbiHub AP/AI video monitoring and analytics platform provides insights into vehicle, bicycle and pedestrian traffic patterns. Combined with Edge AI, the UbiVu management console provides the data needed to reduce congestion, improve safety, and better allocate resources to ensure better managed traffic and parking. Along with these insights, agencies are able to use the technology to find new opportunities for revenue generation with real-time insights into parking availability and violation enforcement. When compared to conventional multi-vendor solutions, the UbiHub is a smart city workhorse that reduces the total cost of ownership by 42 percent, according to Northeast Group.
"Miller Alliance Group, LLC is excited to represent Ubicquia within the Smart City marketplace of the Carolinas," said Lori Miller, Principal-Owner of Miller Alliance Group, LLC. "From streetlights to infrastructure, the innovative and intelligent suite of products from Ubicquia will help make communities safer, provide agencies with traffic safety insight, and repurpose existing infrastructure, saving money, and bringing projects to fruition faster by reducing implementation time."
"We are honored to represent Ubicquia in the Florida ITS, Traffic & Planning marketplace," said Stephanie Hoback, Principal/Owner of Eco Partnering Innovations, LLC. "Ubicquia's smart city solutions are NEMA socket-compliant and compatible with more than 360 million streetlights globally allowing transportation professionals the ability to leverage existing infrastructure in a way that has never been done adding vision and insight for safety and efficiency using advanced intelligence."
"Collaborating with EPI and MAG was an easy decision for us. As traffic management becomes more prevalent, we are excited to use our smart city solutions to partner with companies working every day to drive safety, sustainability, efficiency and connectivity to communities," said Kyle Brown, Vice President WW Channels, Ubicquia.
About EPI
Eco Partnering Innovations, LLC (EPI) is a Florida Woman-Owned, DBE business specializing in "Deliberate Technology Solutions®" for Smart Cities and Connected Vehicle applications. Our firm has strategic partnerships and over 28 years of cross-functional industry experience. We provide Smart City Solutions through products, partnering, and innovation. Our mission is to help promote safety, efficiency, sustainability, and connectivity for communities and individuals. Learn more at https://www.ecopartnering.com.
About Miller Alliance Group LLC
Miller Alliance Group, LLC (MAG) is a North Carolina, DBE, woman-owned business providing Smart City Technology products and solutions with more than 20 years of expertise in business management. MAG is a strategic partner with a group of high-tech smart city mobility partners supporting autonomous vehicles and the next generation of smart cities. MAG specializes in the transportation industry, specifically within ITS, Traffic, Tolling and Parking. Learn more at https://www.milleralliancegroup.com.
About Ubicquia
Ubicquia offers municipalities, utilities, and communication service providers cost-effective and scalable platforms for deploying smart city, connectivity, and grid solutions. The Ubicquia® suite of streetlight-mounted smart city and connectivity platforms include UbiCell®, which enables smart streetlight control; UbiMetro™, a streetlight small cell that accelerates 4G and 5G network deployments; and UbiHub®, which delivers high speed wireless internet access and street level video and audio intelligence. Ubicquia's smart grid platforms include UbiGrid™ DTM+, a platform to monitor a utility's distribution transformers and network in real-time; and UbiSmart™ AQM+, a sensor that monitors a city's air quality index, noise levels and environmental data. Ubicquia's solutions install in minutes to help communities become smarter, safer, and more connected. To learn more visit www.ubicquia.com or follow us on Twitter and LinkedIn.