Making US Grid Smarter + More Resilient: A Closer Look at GRIP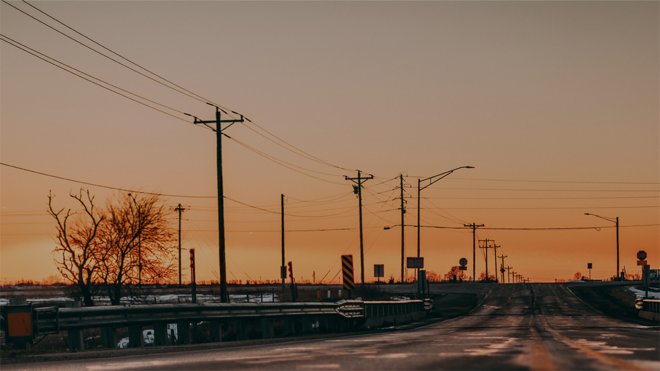 The Department of Energy's Grid Deployment Office (GDO) is now evaluating applications for the Grid Resilience and Innovation Partnerships (GRIP) Program. A total of $3.82 billion will be awarded for this fiscal year.
GRIP's five-year $10.5 billion program is part of the Bipartisan Infrastructure Law, passed in November 2021. The second round of funding is expected to open in Q1 of next year.
GRIP aims to ensure the resiliency and reliability of our country's power infrastructure
The GRIP programs focus on enhancing grid resilience and improving flexibility which is critical in the face of increasingly frequent extreme weather events. These programs will accelerate grid transformation and reduce power outages, providing all American communities access to affordable, reliable, and clean electricity anytime, anywhere.
What is exciting about GRIP is the spirit of innovation and partnership. Eligibility includes utilities, states, tribes, regulators, for-profit entities, non-profits, local governments, and higher education institutions.
GRIP programs are divided into three Topic Areas, each with separate funding and eligibility requirements. The GDO diagram below, from a November 2022 webinar, provides a high-level overview of each topic area and related funding.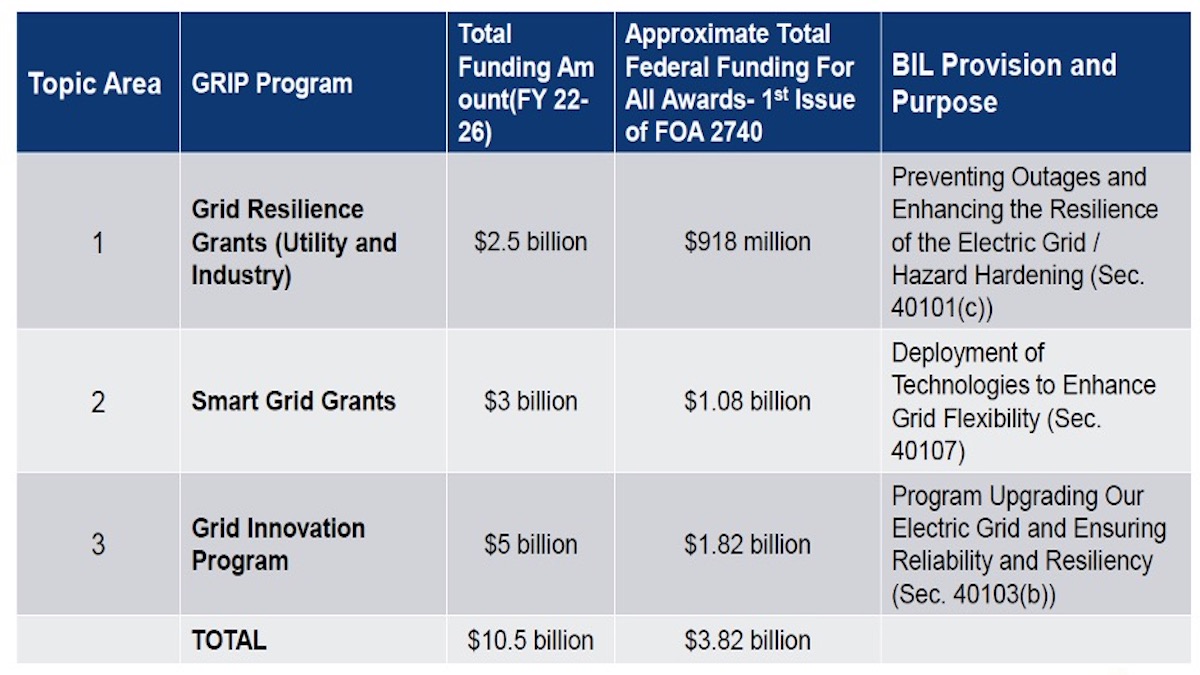 Source: Slides from GRIP Program Webinar – November 2022.
The webinar, and accompanying slides are an excellent introduction to the GRIP program. Another helpful source of information is the Grid and Transmission Program Conductor, which summarizes all the programs, including GRIP, under the DOE segment of the BIL.
The Grid and Transmission Program Conductor Guide  dives deeper, describing each program, eligibility, eligible projects, and funding. The most in-depth information can be found in the GRIP Funding Opportunity Announcement (FOA 2740 – Amendment 7).
Lessons learned from Concept Papers for the first round of funding
The first step toward applying for a GRIP Program grant for the current fiscal year was submitting a Concept Paper for each Topic Area.
Concept Paper requirements include statements about eligibility, topic area, and how the money would be used. The papers must also state how the applicant would use community labor, ensure diversity, equity, inclusion, and access (DEIA) and demonstrate the applicant's qualifications and expertise.
Concept Papers' deadlines varied by Topic Area, with the final papers submitted by January 13, 2023. An unprecedented number of papers were received for each topic area.
Topic Area 1 – 289 with 144 encouraged
Topic Area 2 – 326 with 157 encouraged
Topic Area 3 – 135 (still under review)
All 50 states
100 Concept Papers from small utilities
A second webinar on February 8 this year advised applicants on what worked and what did not in their Concept Papers.
GDO found these positive indicators for Concept Paper submissions:
Clear need for funding opportunities
Firm technical grounding in proposals
Creative and transformative projects
Workforce and DEIA initiatives
Use of the Climate and Economic Justice Screening tool to identify Justic40 communities
CDO made the following recommendations for the formal application:
Be clear on the DOE funding impact
Identify community engagement and benefits
Be clear on cybersecurity risk mitigation
Provide a reasonable timeline with goals for implementation
Applicants were told they could submit applications even if CDO did not encourage their Concept Papers.
With formal applications submitted and now under review, GDO expects the following number of awards for this funding cycle:
Grid Resilience Grants (Utility and Industry) – 10 ($918 million)
Smart Grid Grants – 25-40 ($1.08 billion)
Grid Innovation Program – 4-40 (1.82 billion)
GDO has not said when award announcements will be made for the current fiscal year.
Preparing for the next round of funding in Q1 of FY24
It is not too early to plan for next year's GRIP funding cycle. Preparing a thoughtful Concept Paper requires time and planning. This CDO resource will help you with your paper.
As you plan your Concept Paper project, consider Ubicquia's leading-edge Smart Grid technology to bolster your project's technical, creative, and transformative aspects. Ubicquia's Smart Grid innovations can help mitigate the impacts of extreme weather and speed outage restoration.
Our utility solutions can support applicants in Topic Area 1 with grid resilience solutions such as pole and distribution transformer monitoring. We can support Topic Area 2 Smart Grid goals by enabling distribution grid communications and improving the visibility of grid edge devices.
GRIP matters for all of us
We know the U.S. electric grid is aging and vulnerable. We also know that extreme weather events are increasing and more intense, making GRIP and the continued investments by the utility industry so important.
Climate Central reported that 83% of power outages between 2000-2021 were weather-related and that between 2011 and 2021, weather-related power outages increased by 78% over the previous ten years. The U.S. Congressional Research Office estimated the annual inflation-adjusted costs of weather-related outages at between $25 and $70 billion.
The saying "it takes a village" becomes "it takes a country" when discussing modernizing and hardening the U.S. grid. That is why GRIP is about more than the grid; it is about building strong and lasting partnerships among utilities, communities, states, tribes, education, and regulators to ensure our country's future by strengthening a vital part of its critical infrastructure.
Ubicquia Smart Grid solutions enable utilities to remotely manage, maintain and optimize field assets including poles and distribution transformers with cutting-edge technology, analytics, and AI.