From Cost Savings to Safety: The Evolution of Streetlight Initiatives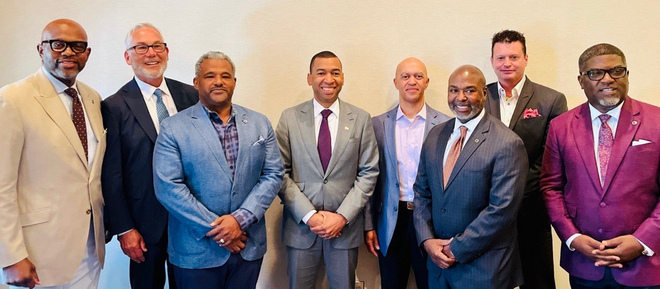 From left: Del Davis (CEO of Smart Growth), Fritz Feiten, Michael Hooks, Mayor Stephen Reed, Mike Grigsby, Ron Redwing (CEO of Redwing Group), Isaiah Blackburn and Darius Jones (president of the National Black Empowerment Council)
Across the country, cities are turning to streetlights as a transformative technology that impacts traffic safety, crime rates, carbon emissions, and social equity. In a recent panel at the Congressional Black Caucus, leaders in the urban development and smart technology space gathered to discuss The Evolution of Streetlight Initiatives, From Cost Savings to Safety.
Impacts of Smart Lighting
LED lights are a more energy-efficient option than their high-pressure sodium (HPS) predecessors. But straight out of the box, LED lights are harsh, cold, and often too bright for urban settings.
Lighting Management Systems (LMS) should be deployed in tandem with LED upgrades to fine-tune lighting color, brightness levels, and power schedules to optimize visibility and efficiency.
Fritz Feiten from Ameresco has overseen large scale streetlight improvement projects including initiatives in Philadelphia and Memphis. He recommends giving citizens the ability to observe and vote on their preferred lighting color. Feiten says, "The reaction of the public can be one of the greatest barriers to smart city transitions so it's important citizens have a say."
Michael Grigsby of Ubicquia argues streetlights touch everyone in a city. They are an important service to get right. He says, "We are seeing the impact of smart lighting on a big scale and learning how to use them as the foundation for a full smart city transformation."
He notes one of the biggest opportunities with streetlights is around public safety.
"Smart lighting has fundamentally reinvented social programming. It communicates to criminals that they're being watched," said Michael Hooks the CEO of Allworld Project Management, the company that managed the City of Memphis's lighting upgrade project.
A Better Way to Find Out About Outages
According to Stephen Reed, the mayor of Montgomery, Alabama, his office receives many calls about streetlight outages. Getting in front of the issue and repairing lights right away is a way to show citizens, the city is on top of issues. He says, "Montgomery is in the Tornado belt. When lights are out it has an impact on everything. We want to improve streetlight maintenance to provide the best foundation for residents."
Montgomery is not alone. Hooks says Memphis had a lot of lights that weren't working, and it was a challenge for the city to keep up. This was one of the reasons for the city's decision to purchase an LMS.
In Chicago, streetlight outages were the #1 complaint received through 3-1-1.
To get in front of the issues Feiten says, "I worked with a city that spent $140,000 a year for a crew to drive around searching for lights that need repair."
Lighting Management Systems are a much better alternative. Instead of waiting for someone to see an outage or downed pole, the system sends real-time alerts that allow the city to respond right away.
Feiten says several of the cities he works with integrate their LMS with the 3-1-1 network so they can inform citizens when the repair is scheduled.
Towards Infrastructure Equity
Older, economically challenged neighborhoods have traditionally suffered the brunt of poor lighting infrastructure.
"Lighting is like water. It's not until you don't have it that you realize how important it is," says Mayor Reed. "People want to see spaces well lit – it affects their state of mind."
Ensuring equal access to light across a city is the first step in making neighborhoods safe. When combined with situational awareness and license plate recognition cameras, the safety benefits grow.
Public safety cameras can be a charged issue for many communities. Bias associated with cameras is a big concern among black and brown communities. And yet, Mayor Reed says, "if you ask any mayor, they'll want cameras on poles."
He went onto say affluent neighborhoods have video cameras everywhere. "Rich people get an alert when a cat crosses their yard."
The same cannot be said for low-income neighborhoods that often feel they don't have the same level of protection and police response.
"Even fully staffed we cannot cover the city the way we want so we use cameras as a force multiplier. The benefits of cameras outweigh the minuses for me," says Reed.
The Next Generation of Smart City Technology
A smart street lighting management system is the foundation for the next generation of smart city technology implementations. Cities are getting creative with use cases as they implement a variety of intelligent controls.
In the City of Schenectady, the health department is using streetlight poles to deploy air quality monitors. The city can monitor key indicators in real time and provide information to citizens.
Memphis is hiring ex-offenders to deploy their smart lighting and other technologies, turning the initial investment cost into a workforce development opportunity to create additional value.
As smart cities continue to face new challenges, ranging from climate to crime rates, to workforce development, smart city technology will only become more important. Streetlights are an asset to smart city development as they are existing infrastructure that can easily be adapted to serve emerging needs.