Ubicquia Wins 2023 International Design Excellence Award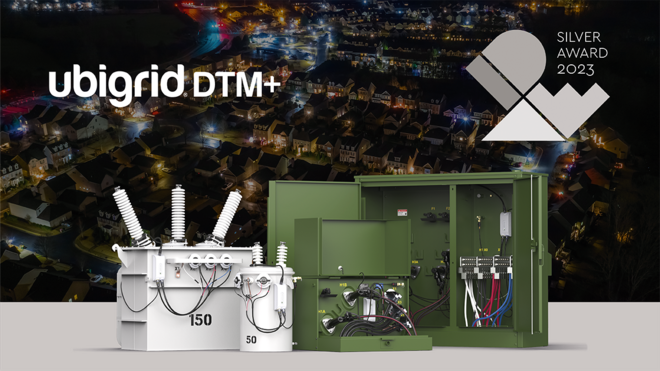 UbiGrid DTM+ receives silver for design innovation in connected devices
FORT LAUDERDALE, FL – August 24, 2023—Ubicquia, Inc., a leader in intelligent infrastructure deployed by more than 800 cities and utilities, announces its UbiGrid™ smart distribution transformer (DTM+) received a silver IDEA award for connected devices. The awards ceremony took place last night at the International Design Conference in New York and included industry giants such as LG, PepsiCo, and Samsung.
The UbiGrid DTM+ is a smart grid platform that improves grid reliability. The platform connects to transformers and provides data that can be used to improve EV (electric vehicle) planning, prevent wildfires, and reduce outages.
Ubicquia is dedicated to making its smart city and smart grid technologies simple and cost-effective to deploy. The UbiGrid DTM+ took an innovative approach to its design. The platform is compact and rich in functionality.
The Industrial Designers Society of America started the IDEA awards program in 1980 to acknowledge achievements in industrial design. It is now one of the world's most prestigious design awards programs.
"Ubicquia is honored to receive this IDEA award for the UbiGrid smart grid platform," said Claudio Ribeiro, VP Design for Ubicquia. "This recognition reflects our dedication to creating innovative, sustainable, and functional products that make a meaningful impact in communities."
About IDC
Organized by the Industrial Designers Society of America (IDSA), IDC is the premier global event for industrial design professionals, bringing together influential leaders, renowned speakers, and innovative minds from around the world. This conference offers a comprehensive program focused on the latest trends, advancements, and best practices in industrial design. It is an ideal platform for exchanging ideas, learning from industry experts, and staying at the forefront of design innovation.
About Ubicquia, Inc.
Ubicquia's intelligent infrastructure platforms install in minutes and make the world smarter, safer, and more connected. Our smart city solutions simply plug into the photocell sockets of 360 million compatible streetlights to reduce energy consumption, enhance public safety, and lower operations and maintenance costs. Our communication platforms use existing streetlights to expand public broadband and help mobile operators accelerate their 5G and FWA deployments. Our smart grid products attach to existing grid assets in minutes, providing predictive analytics that make the grid more resilient. Ubicquia® products are deployed by more than 700 customers, including the largest cities, utilities, and mobile operators across North America. To learn more visit www.ubicquia.com