Ubicquia UbiHub Streetlight Platform Wins iF Design Award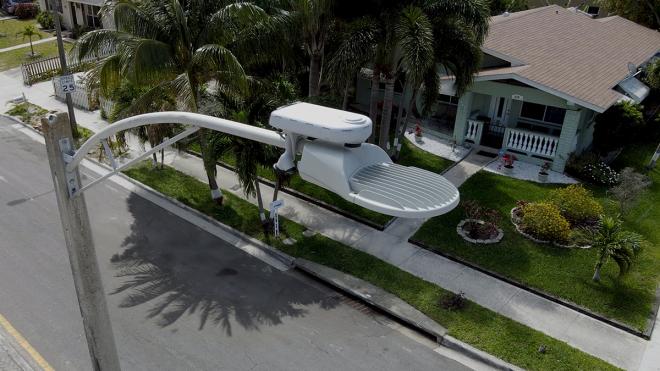 FORT LAUDERDALE, FL – MAY 16, 2023— Ubicquia, Inc. announced that its UbiHub® AP/AI multi-function streetlight platform, has been awarded an iF Design Award in the communication devices category. The ceremony took place in Berlin last night where Ubicquia was honored alongside industry giants such as Apple, Google, Motorola, and Samsung.
The UbiHub AP/AI provides Wi-Fi, street analytics, situational awareness video and network streetlighting controls in a platform that is disruptively simple and cost-effective to deploy. The platform plugs into the photocell socket at the top of streetlights within seconds, is nearly invisible from the street, and costs between 42% to 67% less than traditional methods of deploying the same applications. The industrial design team focused on creating a sleek and functional design that delivers advanced technology capabilities, while meeting demanding environmental and aesthetic requirements.[2]
The iF Design Awards program is an international competition that recognizes exceptional achievements in product design, packaging, communication, and service design. The competition received over 11,000 entries from 56 countries. A panel of independent design experts selected winners based on design quality, innovation, functionality, and sustainability.
"We are honored to receive the prestigious iF Design Award for our UbiHub multi-function streetlight platform," said Claudio Ribeiro, VP of Design for Ubicquia. "This recognition reflects our committment to creating functional, sustainable products for our customers."
Accreditation of the UbiHub AP/AI platform with an iF Design Award is a testament to Ubicquia's commitment to providing streetlight solutions that are innovative, sustainable, and simple to deploy.
About iF Awards
Since 1954, the iF Design Award has been recognized as an arbiter of quality for excellent design. The iF Design brand is renowned worldwide for outstanding design services, and the iF Design Award is one of the most important design prizes in the world. It honors design achievements in all disciplines: product, packaging, communication and service design, architecture and interior architecture as well as professional concept, user experience (UX) and user interface (UI). All award-winning entries are featured on www.ifdesign.com and published in the iF Design App.
About Ubicquia
Ubicquia's intelligent infrastructure platforms install in minutes and make the world smarter, safer, and more connected. Our smart city solutions simply plug into the photocell sockets of 360 million compatible streetlights to reduce energy consumptions, enhance public safety, and lower operations and maintenance costs. Our communication platforms use existing streetlights to expand public broadband and help the mobile operators accelerate their 5G and FWA deployments. Our smart grid products attach to existing distribution transformers in minutes, providing predictive analytics that make the grid more resilient. Ubicquia products are deployed by more than 550 customers that include the largest cities, utilities, and mobile operators across North America. To learn more visit www.ubicquia.com or follow us on Twitter and LinkedIn.