Ubicquia Strengthens Go-to-Market Strategy with New Utility Partners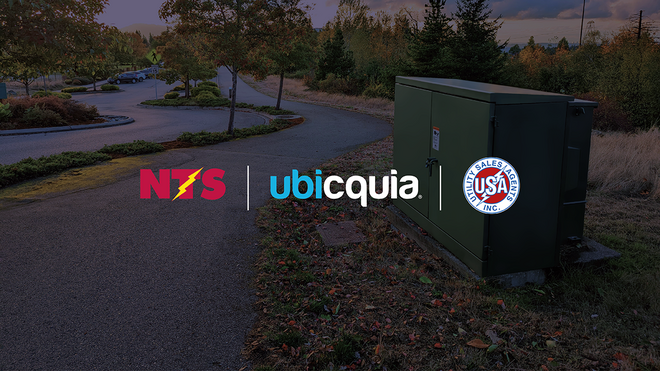 Partners Add UbiGrid DTM+ to Portfolios to Make the Transformers They Sell Intelligent
FT LAUDERDALE, FL —March 8, 2023— Ubicquia, Inc., a company dedicated to making intelligent infrastructure solutions that are easy to deploy and monitor, signed go-to-market partnerships with Howard Agency, National Transformer Sales, and Utility Sales Agents of South Texas. The agreements allow the agents to sell Ubicquia's UbiGrid DTM+ to utility customers with new distribution transformers or on a retrofit basis.
Howard Agency, NTS, and USAST are recognized experts in transformer sales and service. By adding the DTM+ to their existing portfolios, the agents can provide utilities with smart grid initiatives 1) a single platform to monitor pole, pad mount, single phase or three phase transformers and 2) advanced analytics to monitor transformer health in real-time and isolate faults across their distribution network. The ability to monitor and analyze transformer data drives improved reliability, more efficient operations, and better capacity planning.
"We are thrilled to partner with these exceptional companies," said Stephen Patak, CRO, Ubicquia. "They have outstanding track records for being trusted advisors to their US-based utility customers, and share in our commitment to helping build a smarter and safer grid."
"With many critical loads across the country being served by 30+ year old transformers, Ubicquia offers a solution to allow utilities to confidently leave these transformers in service for years to come. If an issue does occur, the goal is for the utility to be able to proactively schedule maintenance or a change out minimizing down time for their customer." said Hunter Howard, vice president of the Howard Agency. "With Ubicquia, we can do that in a simple and cost-effective way."
Craig Shoaf, the president of NTS said "The DTM + is one of the most exciting solutions that we can offer our customers in 2023. It is a natural evolution of a transformer."
Tyler Chapman, the president of Utility Sales Agents of South Texas said, "We are very selective with the portfolios we represent. Ubicquia's UbiGrid DTM+ closes a visibility gap our customers have with their distribution network. The product will pay for itself in O&M savings, increased uptime, and longer transformer use."
By equipping transformers with Ubicquia's intelligent grid monitoring capabilities, Howard Agency, NTS and USAST customers will be able to monitor:
Electrical aspects of their transformers on secondary and primary sides
Physical aspects, including oil temperature, oil pressure, tilt, and vibration.
For pad mounted transformers, the DTM+ can detect arcing in the air compartment and when the maintenance doors are opened.
Each partner is also certified to carry custom versions and cable kits to provide real-time tilt and vibration monitoring along with higher power three-phase transformer solutions for renewables, microgrids, distributed generation, and EV charging stations.
About Ubicquia
Ubicquia®, Inc. offers municipalities, utilities, and communication service providers cost-effective and scalable platforms for deploying smart city, connectivity, and smart grid solutions. The Ubicquia suite of streetlight-mounted smart city and connectivity platforms include UbiCell®, which enables smart streetlight control; UbiMetro™, a streetlight small cell that accelerates 4G and 5G network deployments; UbiHub®, which delivers high speed wireless internet access and street level video and audio intelligence; and UbiSmart™ AQM+, a sensor that monitors a city's air quality index, noise levels and environmental data. Ubicquia's smart grid platform includes UbiGrid™ DTM+, a platform to monitor a utility's distribution transformers and network in real-time. Ubicquia's solutions install in minutes and cost effectively help communities of all sizes become smarter, safer, and more connected. To learn more visit www.ubicquia.com or follow us on Twitter and LinkedIn.
About Howard Agency
Howard Agency represents companies who sell products to electric utilities in Mississippi, Alabama, West Tennessee, the Florida Panhandle, and Entergy. We pride ourselves in representing top tier manufacturers and are fortunate to work with the best customers in the country.
About National Transformer Sales
NTS, Inc. is a manufacturers' representative located in Raleigh, NC. NTS has served electric utility accounts in North Carolina, South Carolina, Virginia, Maryland, Delaware, Alabama, Georgia, and the Florida Panhandle since 1984. Since the company's inception, NTS has grown to become the premier manufacturers' representative of equipment, materials, and services in the electric utility industry, serving more than 20 lines with a commitment to providing the best service in the industry.
About Utility Sales Agents of South Texas
Utility Sales Agents of South Texas is a manufacturer's representative with a diverse range of electrical product lines serving the electric utility market for over sixty years. Established in 1954, Utility Sales Agents of South Texas has a rich history of being the premier utility agency in its territory and representing manufacturers that are at the pinnacle of their industry.