Ubicquia Awarded IS0 27001 and AWS GovCloud (US) Certifications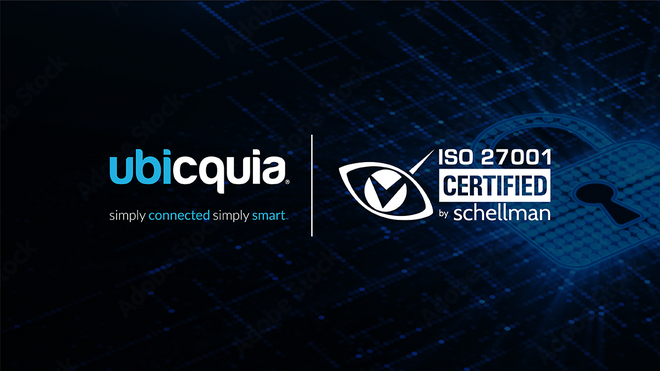 Certifications reflect Ubicquia's alignment with internationally recognized security standards
FT. LAUDERDALE, FL., September 27, 2022 - Ubicquia, Inc. a company dedicated to making intelligent infrastructure platforms that are simple to deploy and monitor, today announced that it has been awarded the ISO 27001 certification, a leading standard for information security management, and the AWS GovCloud (US) certification, which enables Ubicquia to host sensitive data and regulated workloads in the cloud.
"Government departments, utilities and enterprises are responsible for critical infrastructure and sensitive data. As a result, they demand the highest level of security and resiliency," said Stephen Patak, Chief Revenue Officer, Ubicquia. "We invested in the rigorous ISO 27001 and AWS GovCloud process to ensure our customers can trust our technology meets the highest data integrity standards."
Ubicquia achieved ISO/IEC 27001 certification for its information security management system (ISMS), which supports infrastructure and services for Ubicquia's suite of connectivity, smart city, and smart grid solutions, including the UbiHub, UbiCell, UbiGrid, UbiMetro, and UbiVu. The ISO/IEC 27001 certification validates that the security of the personnel, information technology systems, applications, policies, procedures, standards, tools, utilities, and data involved in the deployment and operation of these solutions conforms to the requirements of the ISO/IEC 27001 standard. Ubicquia's ISO/IEC 27001 ISMS certification is publicly accessible here.
The AWS GovCloud (US) certification enables Ubicquia to provide government customers access to public and private clouds to further increase agility and security. This secure platform allows Ubicquia customers to support their US government compliance requirements, including the International Traffic in Arms Regulations (ITAR) and Federal Risk and Authorization Management Program (FedRAMP) High baseline requirements.
"Our customers entrust our platforms to deliver critical data used for everything from energy savings and traffic management to grid resiliency and public safety," said Ian Aaron, Chief Executive Officer, Ubicquia. "These certifications underscore our investment and commitment to cyber security and data integrity, not just for critical infrastructure of our utility and DoD customers but for all customers."
About Ubicquia
Ubicquia offers municipalities, utilities, and communication service providers cost-effective and scalable platforms for deploying smart city, connectivity, and grid solutions. The Ubicquia® suite of streetlight-mounted smart city and connectivity platforms include UbiCell®, which enables smart streetlight control; UbiMetro™, a streetlight small cell that accelerates 4G and 5G network deployments; and UbiHub®, which delivers high speed wireless internet access and street level video and audio intelligence. Ubicquia's smart grid platforms include UbiGrid™ DTM+, a platform to monitor a utility's distribution transformers and network in real-time; and UbiSmart™ AQM+, a sensor that monitors a city's air quality index, noise levels and environmental data. Ubicquia's solutions install in minutes to help communities become smarter, safer, and more connected. To learn more visit www.ubicquia.com or follow us on Twitter and LinkedIn.