Smart Cities Dive | AT&T to Pilot Smart Lighting Solution in Las Vegas' Innovation District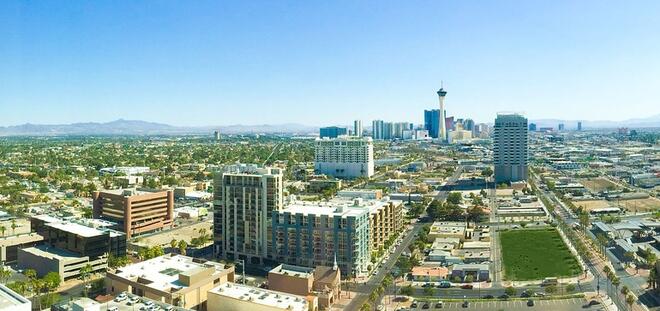 The six-month pilot was announced during CES 2019 just two years after AT&T unveiled its ambitious smart cities program at the same tradeshow. In 2018, the telecom announced its Smart Cities Structure Monitoring product in an effort to improve U.S. infrastructure and boost safety, and the company has since worked with a portfolio of cities —including Atlanta, Dallas and Chicago — to deploy internet of things (IoT) infrastructure solutions.
Ubicquia is just one of many partners AT&T has brought into its Smart Cities Alliance program — which also includes Cisco, Deloitte, Ericsson, GE, IBM, Intel, and Qualcomm — and its offerings are likely to boost Las Vegas' growing reputation as a livable, technology-forward city. Aside from improving lighting efficiencies, Ubicquia's Ubicell product will also connect to air quality sensors to help provide near real-time information on changes in temperature, ozone and particulate levels, according to a press release.
This overall partnership with AT&T complements Las Vegas' existing efforts to become "not only a smart city, but the smartest city" — a goal that was shared in December when the city partnered with Japanese company Nippon Telegraph and Telephone Corporation (NTT) on cameras and sound sensors in the Innovation District.
"The future is now, and government must be ready to embrace technologies that can help to address community issues and make cities more livable," Las Vegas Mayor Carolyn Goodman noted at that time — and it's likely Las Vegas will continue to make investments and announce partnerships that push the city along that path. 
DIVE BRIEF:
AT&T announced Tuesday that it is working with the City of Las Vegas to pilot a smart lighting solution in the city's Innovation District in an effort to improve public safety and reduce energy usage.
AT&T will work with smart city platform Ubicquia to replace existing photocells with Ubicquia streetlight routers, dubbed Ubicell, and integrate wireless LTE and LTE-M networks across the platform. The telecom says it will monitor energy usage and outages "in near real-time" to improve streetlight maintenance.
"The City of Las Vegas pilot is a great example of how cities can utilize their existing streetlight infrastructure to improve safety and connectivity with their community, and easily deploy smart city technology that solves real problems," said Ian Aaron, CEO of Ubicquia, in a statement.
Smart Cities Dive Read the full article