Ubicquia Wins "Overall Wi-Fi Network Infrastructure of the Year"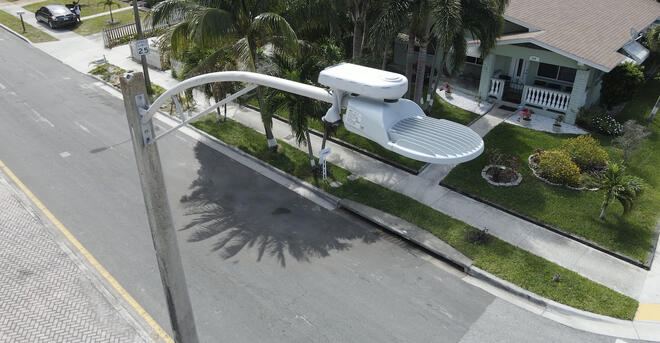 UbiHub AP6 and AP/AI recognized in leading independent market intelligence award program
FT LAUDERDALE, FL — October 27, 2022 — Ubicquia, a company dedicated to making intelligent infrastructure solutions that are easy to deploy and monitor, today announced its UbiHub Smart City Platform won the "Overall Wi-Fi Network Infrastructure of the Year" award for the Mobile Breakthrough Awards. The program is conducted by Mobile Breakthrough, a leading independent market intelligence organization that recognizes the top companies, technologies, and products in the global wireless market.
"Our UbiHub AP6 and UbiHub AP/AI can leverage more than 360 million existing streetlights to easily deploy and scale public Wi-Fi and video for public safety and traffic management. UbiHub costs 42% less than conventional outdoor public Wi-Fi solutions, supports multiple applications, installs in minutes, and is nearly invisible from street level. We are honored to be recognized by Mobile Breakthrough for our innovation," said Ian Aaron, CEO of Ubicquia.
The Mobile Breakthrough Awards recognize the world's best mobile companies, products, and people. It selects award winners through an independent panel of industry experts. Ubicquia was chosen from more than 2,700 entries. It is honored to be in the company of Breakthrough award winners, like Verizon, Samsung, Cox, Meta, VMware, T-Mobile, Telit, Deutsche Telekom and Qualcomm at the sixth annual program.
UbiHub AP/AI is a Wi-Fi access point with video and audio edge AI processing. It simply plugs into any streetlight photocell socket in minutes. The UbiHub AP/AI is an integrated single platform for bridging the digital divide, improving public safety and optimizing traffic management.
About Ubicquia
Ubicquia offers municipalities, utilities, and communication service providers cost-effective and scalable platforms for deploying smart city, connectivity, and smart grid solutions. Ubicquia's® suite of streetlight-mounted smart city and connectivity platforms include UbiCell®, which enables smart streetlight control; UbiMetro™, a streetlight small cell that accelerates 4G and 5G network deployments; UbiHub®, which delivers high speed wireless internet access and street level video and audio intelligence; and UbiSmart™ AQM+, a sensor that monitors a city's air quality index, noise levels and environmental data. Ubicquia's smart grid platform includes UbiGrid™DTM+, a platform to monitor a utility's distribution transformers and network in real-time. Ubicquia's solutions install in minutes and cost effectively help communities of all sizes become smarter, safer, and more connected. To learn more visit www.ubicquia.com or follow us on Twitter and LinkedIn.